REUTERS VIDEO I made with Reuters editor Jill Kitchener about how Reuters covered track & field at the London Olympics.
London was the fourth Olympics I've covered, but I was more excited about this one than any of the others.
(Me with fellow Reuters photographer Suzanne Plunkett before the opening ceremony).
I was born in London, and grew up in England, but only ever worked there as a newspaper reporter. So the London Olympics was my first ever photo assignment in my home country.
Reuters had around 50 photographers and 20 editors and photo support staff covering the Games.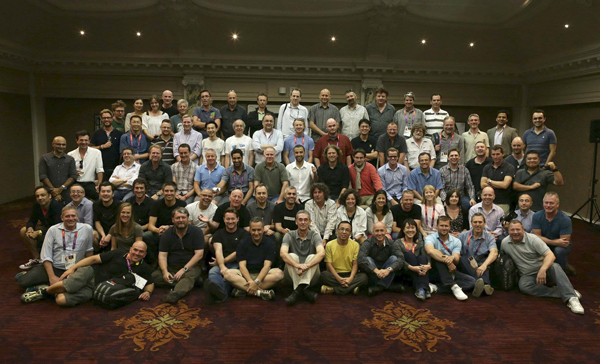 The first week I shot tennis, beach volleyball and canoeing.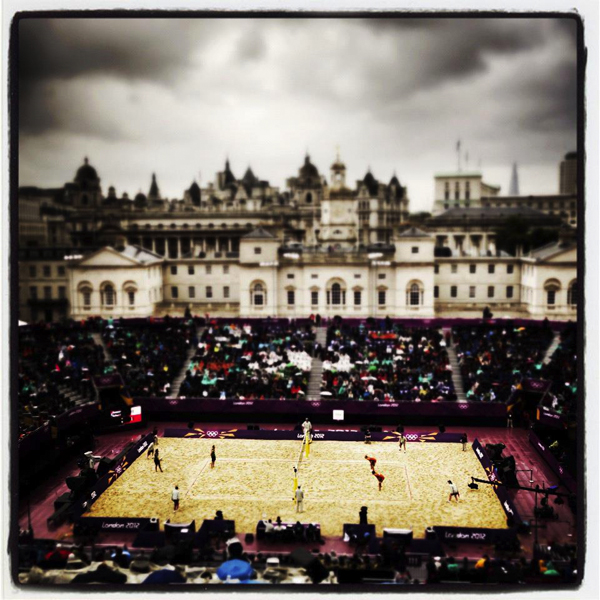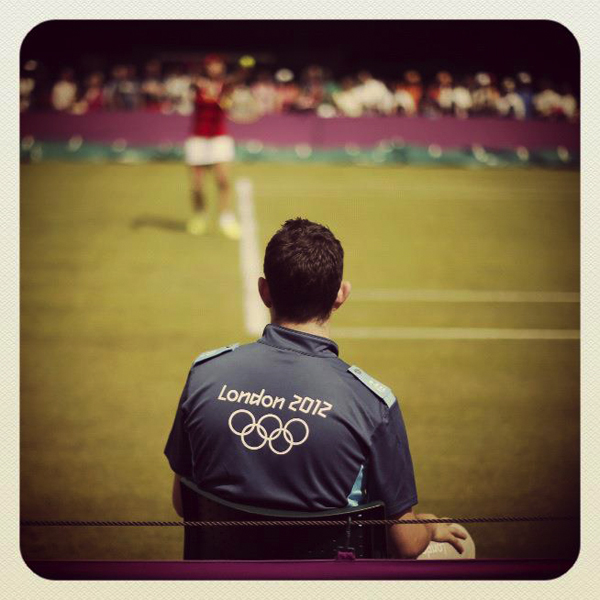 Then when track & field started in the second week, my assignment was to shoot the head-on moat at the end of the finish line.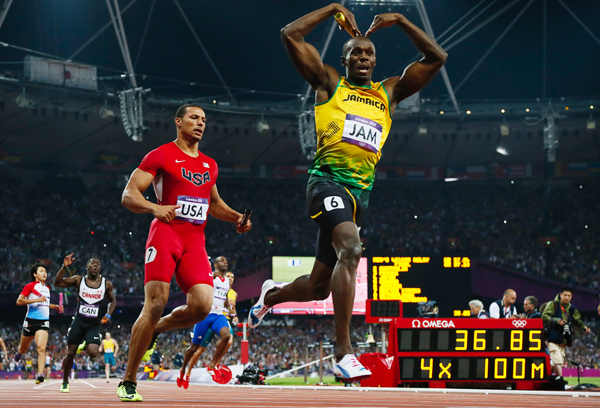 REUTERS/Lucy Nicholson
I also set up to seven remote cameras covering different lanes and distances past the finish line. My main camera and all the remote cameras were connected to a foot switch with XLR cables and also to a server with Ethernet cables. Editor Michael Leckel was able to send my first photo to clients three minutes after the start of the men's 100 meters.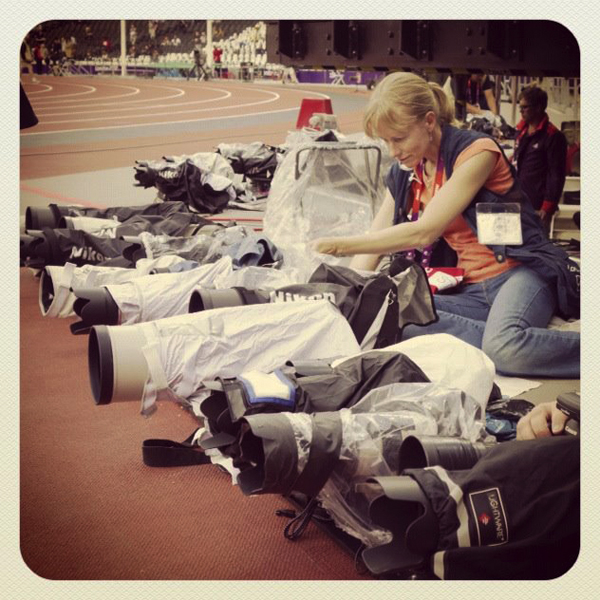 Only a small group of photographers shoot from the finish line head-on moat. It was a cramped area, with a roof too low for anyone taller than me. It could have been hell, but with such a nice, professional, funny group of people, the job was a pleasure.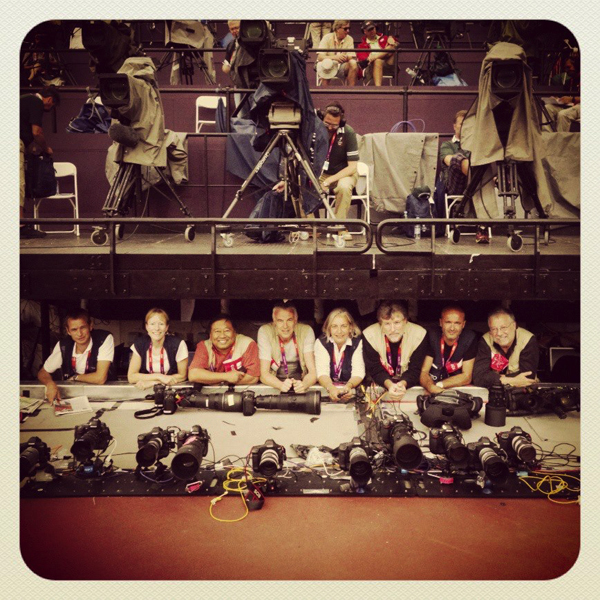 (Photographers L-R:  Michael Steele/Getty Images, Lucy Nicholson/Reuters, John Mabanglo/EPA, Pascal Rondeau/L'Equipe, Anja Niedringhaus/Associated Press, Bill Frakes/Sports Illustrated, Olivier Morin/AFP, Robert Deutsch/USA Today).
At first when it rained, water poured through the holes in the moat roof onto our computers and camera equipment. So Bob Deutsch of USA TODAY arrived early one day and persuaded a guy to fill every crack with shower caulking. When you're working 15-18 hour days, it's the little things that matter!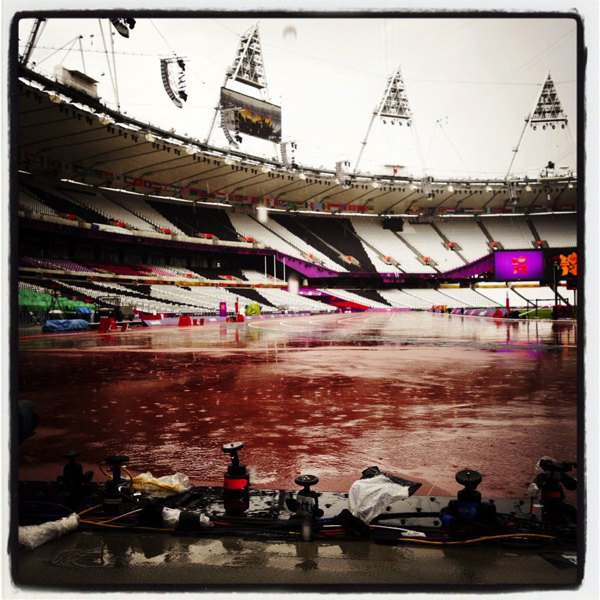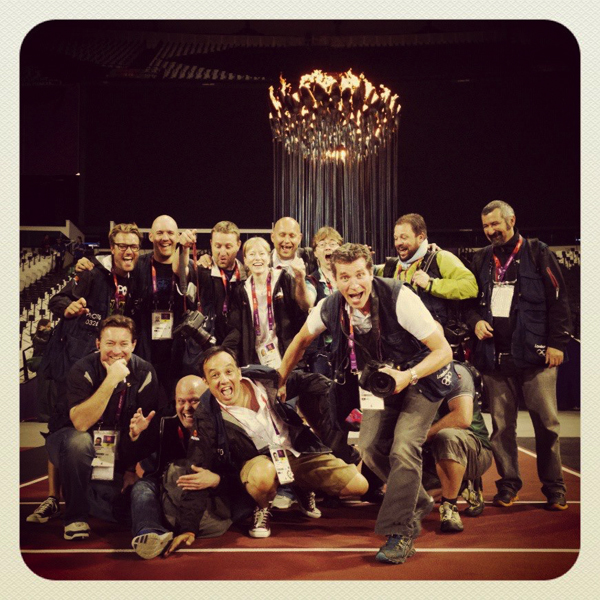 (The Reuters track & field photography crew posing in front of the Olympic flame).
Thursday, August 9th, 2012 at 3:10 pm